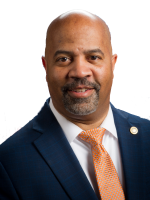 Randy Reid
News Director & Co Host of the Morgan News Hour
Randy Reid comes to WEAA 88.9 with over 25 years of broadcast experience. As a small market News Director Randy has experience working with young journalists. As News Director at WEAA he will be working and training our Student Journalist from the School of Global Journalism & Communication in the learning lab at WEAA.
In addition to his News Director duties Randy is the Co-Host of the Morgan News Hour which airs weekdays at 6pm.
As a News Director at WENY-TV in Elmira, NY Randy's News Team earned its first NYS Broadcasters Award in 2002. As General Manager at WETM in Elmira, NY Randy's News Department earned over 10 NYS Broadcasters Award.
Randy has hired and mentored a number of journalists who are now working at the network level and at many large markets around the country.
Randy is married to his wife Dee and is the proud grandfather of Aubriannah and Ariana.
Story Idea? Contact me at randy.reid {at} morgan.edu
Some Maryland Post Offices will extend their Saturday hours and will open on Sundays until Christmas Day.

Today, Baltimore City State's Attorney Marilyn Mosby and Prince George's County State's Attorney Aisha Braveboy published their offices' 'Do Not Call'…

(WEAA)— Our very own Morgan State University broke ground Thursday morning on the new Health and Human Services Building. The $171 million construction…

(WEAA)— An explosive new report came out this week about the Augusta Fells Savage Institute (AFS) involving their principal and teachers.The report was…